RocSheridan.com Profile - Roc Sheridan - Sports Betting Picks
| | |
| --- | --- |
| | Pro Featured Verified Service |
Documented Record for Roc Sheridan
* Return on Investment (ROI) figures above represent potential returns based on a $100 per unit risk amount. Please note that past results do not guarantee or imply future performance.
Website Screenshot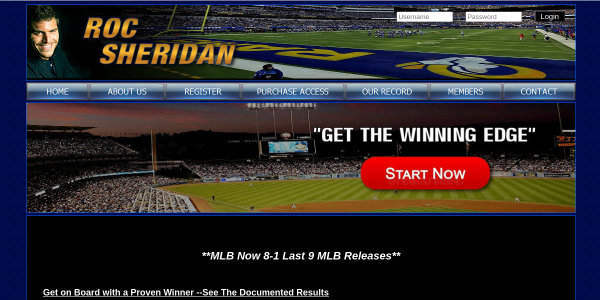 Handicapper Bio

#1 Ranked NCAA Football Handicapper in 2022-23!
College Football Regular Season --77-49-2 (61%) in 2022-23
#1 Ranked NBA Handicapper in 2022-23!!

Roc Sheridan is a Professional Sports Bettor and the CEO of Roc Sheridan Sports.
Roc has been investing in the sports market for over 25 years.
Roc has had Big Winning Seasons in All Major Sports. Top 5 Finishes in College Basketball in 2008, 2009, 2010 and in 2011. Several #1 Finishes in College and NFL Football.
Rocky relies heavily on angles, along with statistical and situational analysis when handicapping a game. He has several successful systems that he uses in baseball and basketball.
It takes discipline and a good money management strategy to be successful.
With over 25 years of experience investing in the sports markets, Roc has proven without a doubt that his ability to identify an edge vs the number combined with his money management strategy, he puts his clients in the best possible position to profit over the long term.
Stop gambling and start investing with Roc Sheridan today.
Handicapper Blog
RocSheridan.com has not posted any blogs yet.