SportsInformationTraders.com Profile - Sports Information Traders (Jon Price) - Sports Betting Picks
| | |
| --- | --- |
| | Pro Featured Verified Service |
Documented Record for Sports Information Traders (Jon Price)
SportsInformationTraders.com does not have a documented record yet.
Latest Picks
SportsInformationTraders.com has not posted any picks yet.
Website Screenshot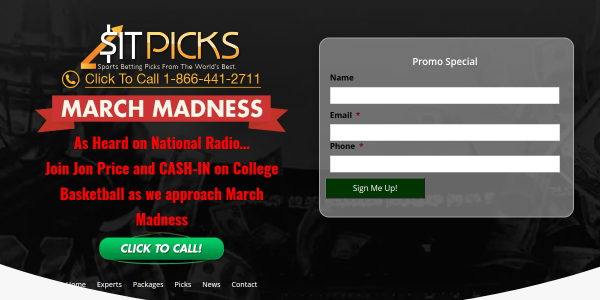 Handicapper Bio

Sports Information Traders is a leading sports betting service. It is ran by the legend Jon Price who has been frequently nominated as the worlds most successful sports bettor. His gut instinct tied in with mathematical principles and a true understanding of wagering has led him to be profitable every year since his inception and entry into the sports handicapping world. A reclusive individual until 2014 Price decided to start selling his sports picks to the public and going more public appearing on national syndicated radio shows across the country. Being heard live in San Francisco, California, Dallas, Texas, the South for big College Football fans in the Carolinas, Arkansas, Georgia, and across the rest of the country. Price has also been featured prominently and interviewed for his distinctive hiring style allocating only the best and brightest talent to work under him. The Huffington Post did a full feature on him and he successfully called the Denver Broncos to win the Super Bowl in 2015 over the Carolina Panthers in early September something that made big headlines as he also correctly predicted the Kansas City Royals to win the World Series that same year. 2016 is on track to be yet another profitable year for the star handicapper and his company. 2017 will have new challenges and obstacles to navigate but Jon Price will continue to figure out the best way to beat the bookmakers and figure out inefficiencies in point spreads. The Sports Info Traders team looks for a variable called "Delta" in sports betting this is the line that should be and when it does not align with the point spread then that creates an arbitrage opportunity. For his work in the industry Price has write ups that can be read in Gambling911.com, Forbes, Inc. Magazine, Entrepreneur.com, Ante Up, Card Player Magazine, and many more.
Handicapper Blog
SportsInformationTraders.com has not posted any blogs yet.