TemplersSportsPicks Profile - Templers Sports Picks - Sports Betting Advice
TemplersSportsPicks

Pro Verified Service
Documented Record for Templers Sports Picks
* Return on Investment (ROI) figures above represent potential returns based on a $100 per unit risk amount. Please note that past results do not guarantee or imply future performance.
Website Screenshot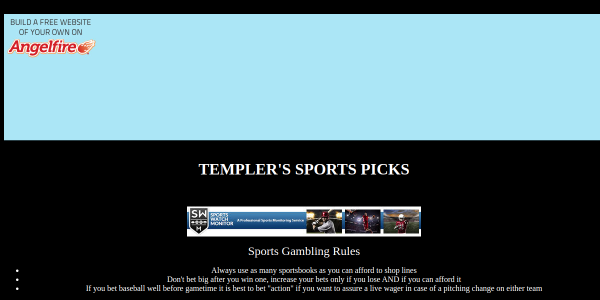 Handicapper Bio
I have been handicapping since 1997. I was the Trackpicks MLB champ in 2000. I was the Trackpicks NBA and NCAA hoops champion for the 2014-15 season, the Trackpicks best overall handicapper for 2015, and the 2017 Trackpicks MLB champ. If not plus units you get the same package free.
2022 has been a great year for me so far, and I expect bigger and better things to come. Get on board today!
Handicapper Blog
TemplersSportsPicks has not posted any blogs yet.