TemplersSportsPicks Review - Templers Sports Picks - Sports Handicapper
TemplersSportsPicks

Pro Verified Service
You must be logged in a customer account to access contact info. Click here to login or register for free.
Reviews
New Review Submitted for TemplersSportsPicks on 1/20/2016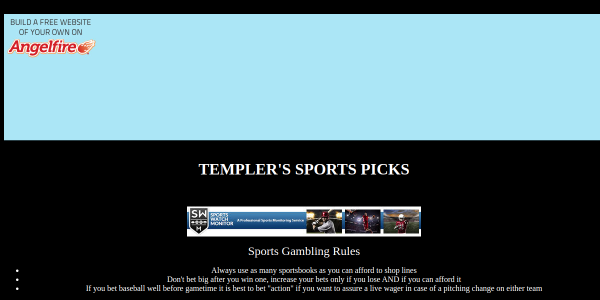 I have been handicapping since 1997. I was the Trackpicks MLB champ in 2000. If not plus units you get the same package free, please email your payment receipt from Trackpicks to e@oath.com.
The above is the promise to get another day of picks if I did not receive plus units,
as you can see, I did not. After contacting this service most of the day I did not even
receive the courtesy of a response. Just a head's up this is not an honest person,
and he does not honor his above statement.
The day brought me -12 units, and -36.36% and
my receipt was submitted with this request.
"Please unlock my day of picks on Cappernet."
There was never a response. Buyer beware of this one.
Submitted by "usa67us" on 1/20/2016