TemplersSportsPicks Review - Templers Sports Picks - Sports Handicapper
| | |
| --- | --- |
| | Pro Verified Service |
Customer Reviews for Templers Sports Picks
New Review Submitted for TemplersSportsPicks on 1/20/2016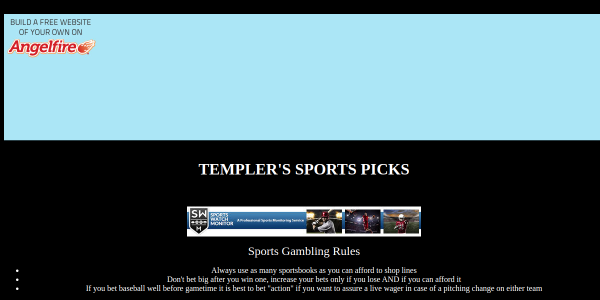 I have been handicapping since 1997. I was the Trackpicks MLB champ in 2000. If not plus units you get the same package free, please email your payment receipt from Trackpicks to e@oath.com.
The above is the promise to get another day of picks if I did not receive plus units,
as you can see, I did not. After contacting this service most of the day I did not even
receive the courtesy of a response. Just a head's up this is not an honest person,
and he does not honor his above statement.
The day brought me -12 units, and -36.36% and
my receipt was submitted with this request.
"Please unlock my day of picks on Cappernet."
There was never a response. Buyer beware of this one.
Submitted by "usa67us" on 1/20/2016
Response from TemplersSportsPicks
I am not sure whether I was slow at responding to this customer or if I even saw his email, as I lost access to my oath.com email address and I believe that it was around that time. I have consistently given free service equal to the length of what the customer purchased as long as I have been in business.
I would gladly offer a free week if they chose to contact me again.


*** We seek to provide our users with an honest and relevant representation of sports handicapping services listed in our directory through our Sports Handicapper Reviews. Reviews provide a space for users to anonymously share their unique experiences with a particular service. Reviews are user-generated, and CapperTek does not guarantee the accuracy of this content or information or endorse any statement as the opinion of CapperTek or its affiliates. Additionally, we do not remove, censor, edit, or alter any reviews submitted unless the content or information contained in the review is in violation of any federal, state, or local laws. If you have any questions or concerns regarding any review posted on CapperTek, please feel free to
contact us
today and bring it to our attention.