TheCashmanWins.com Profile - The Cashman Wins (Alan Cashman) - Sports Betting Picks
| | |
| --- | --- |
| | Pro Featured Verified Service |
Documented Record for The Cashman Wins (Alan Cashman)
* Return on Investment (ROI) figures above represent potential returns based on a $100 per unit risk amount. Please note that past results do not guarantee or imply future performance.
Website Screenshot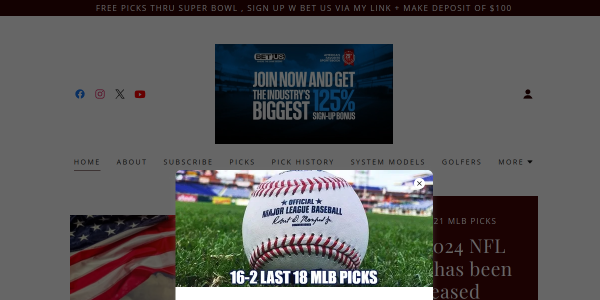 Handicapper Bio
Black Friday Deals:
Lifetime Pass $79 (Reg $199)
2 yr All Picks $45 (Reg $99)
All Sports 1 yr $35  

https://thecashmanwins.com/subscribe

We are 70% in College Football this season
Subscriber Picks are 63.7% NFL/CFB the past 2 seasons.   

We also finished at 64% in CBB in 2021 and went 6-1 ATS in the NCAA Tournament and finished 10-4 in the CBB postseason in 2022

Learn more about me and my Quality over Quantity approach to Sports Betting https://thecashmanwins.com/about
Payment Options

Here is a Sample of my Work

Handicapper Blog
TheCashmanWins.com has not posted any blogs yet.