TheCashmanWins.com Profile - The Cashman Wins (Alan Cashman) - Sports Betting Picks
TheCashmanWins

.com

Pro Featured Verified Service
Documented Record for The Cashman Wins (Alan Cashman)
* Return on Investment (ROI) figures above represent potential returns based on a $100 per unit risk amount. Please note that past results do not guarantee or imply future performance.
Website Screenshot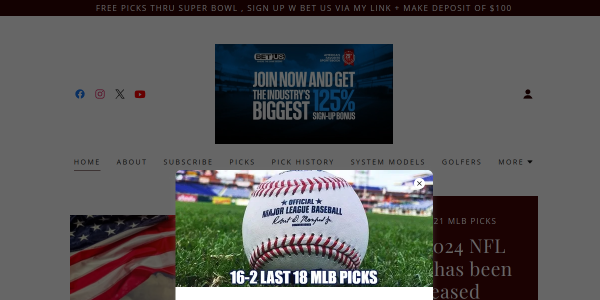 Handicapper Bio
I pride myself on being one of the most Disciplined and Transparent Cappers in the Betting Industry. 

There are plenty of Cappers that will send you 4 or 5 Picks everyday.  I am not a volume bettor where you throw 4 or 5 Picks at the wall each day and hope to go 3-2.  I believe in Quality over Quantity. The day's schedule and match ups dictates the number of plays I send out.

I will send you the strongest plays with the best chance for winning based on the match up and am not afraid to take a Pass on a day where I do not feel there is an edge in day's match ups.  

About me, I serve as the College Football and College Basketall Expert on "All Indiana Bets" on WISH-TV out of Indianapolis, where I posted a 12 game win streak on tv in College Football in 2021.

I am also a weekly guest on "The Dan Dakich Show" and I appear on numerous other radio shows and podcasts to give out betting information.

My Clients finished a combined 66% in the NFL and CFB in 2021.  

We also finished at 64% in CBB in 2021 and went 6-1 ATS in the NCAA Tournament

I was the only person out of 5 people on "All Indiana Bets" to correctly pick the Bengals to cover in last year's Super Bowl.

I look forward to working with you and showing a different approach to Sports Betting that my Cleints have grown to appreciate.
 
Thank You
Alan Cashman
 
"The Cash Man"
 
Clients call me "Cashy"


Here is a Sample of my Work

Handicapper Blog
TheCashmanWins.com has not posted any blogs yet.