WinniBet.com Profile - WinniBet - Sports Betting Picks
WinniBet

.com

Pro Verified Service
Documented Record for WinniBet
* Return on Investment (ROI) figures above represent potential returns based on a $100 per unit risk amount. Please note that past results do not guarantee or imply future performance.
Website Screenshot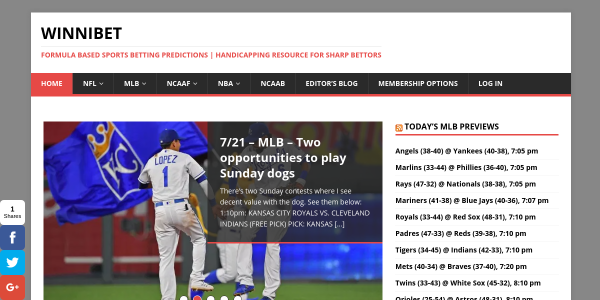 Handicapper Bio

WinniBet is all about using formula's to calculate betting advantages.
Check out the individual blogs below for detailed explanations of the Triple Trend Formula (TTF) for MLB, the Calculated Relative Spread (CRS) for NFL and NCAAF, and the Formulated Spread Indicator for NBA and NCAAB matchups.
I provide my rating for each matchup for all picks and right now all my picks here are free.
I also invite you to my website, WinniBet.com for even more betting resources.
Good luck, players!