TheWhalePicks.com Review - The Whale Picks - Sports Handicapper
TheWhalePicks

.com

Pro Featured Verified Service
Customer Reviews for The Whale Picks
New Review Submitted for TheWhalePicks.com on 11/11/2022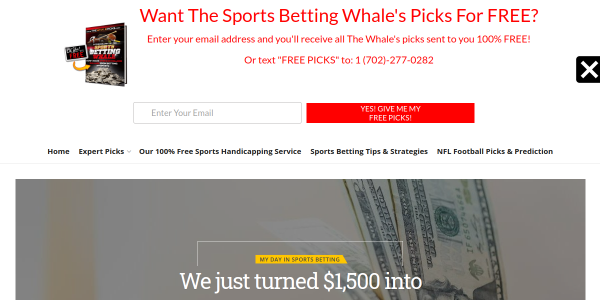 Don't buy ANYTHING this guy is selling. He's a long-time known scammer who couldn't pick a winner if his life depended on it.
If you'd followed his bets and betting advice since August 2021, you'd be down over 25k (I have his emailed picks and results going back that far).
Run, don't walk, far away from anything Sports Betting Whale (or John Morrison or Tony Chau, it's all the same scammer)is selling.
Submitted by "alexknyc" on 11/11/2022

New Review Submitted for TheWhalePicks.com on 9/7/2021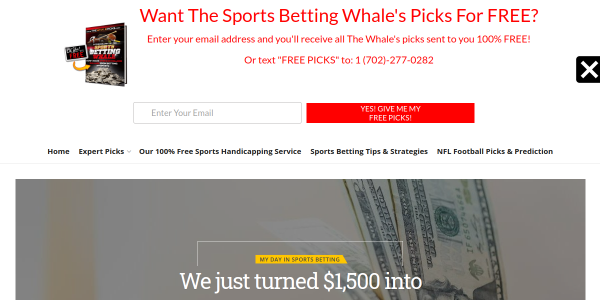 This is 110% a scam. First, they never answer an email. Second, the pick now tip later program is 100% a lie. They send you emails with different levels of certainty and they come up with new names daily with their "Platinum" picks and tell you that you can't have them unless you tip more. Then they send emails out claiming they were winners when in reality they go 2-7 across the board. They give you parlay and round-robin picks and only grade them on winning days. "The Whale" is a cheat. It's a huge marketing scam.
Submitted by "Webman1972" on 9/7/2021
New Review Submitted for TheWhalePicks.com on 5/12/2021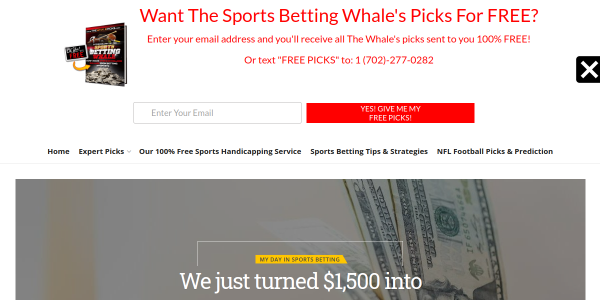 *** We seek to provide our users with an honest and relevant representation of sports handicapping services listed in our directory through our Sports Handicapper Reviews. Reviews provide a space for users to anonymously share their unique experiences with a particular service. Reviews are user-generated, and CapperTek does not guarantee the accuracy of this content or information or endorse any statement as the opinion of CapperTek or its affiliates. Additionally, we do not remove, censor, edit, or alter any reviews submitted unless the content or information contained in the review is in violation of any federal, state, or local laws. If you have any questions or concerns regarding any review posted on CapperTek, please feel free to
contact us
today and bring it to our attention.