DonnyAction.wordpress.com Review - Donny Action - Sports Handicapper
DonnyAction

.wordpress.com

Pro Featured Verified Service
Customer Reviews for Donny Action
New Review Submitted for DonnyAction.wordpress.com on 9/14/2021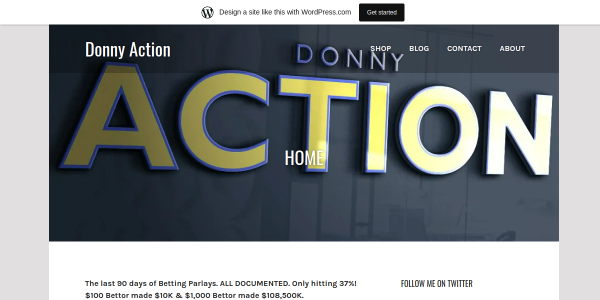 1 and 8 in NFL, 0 and 18 in College Football over that last weekend (11/12/13 Sept 2021) and this guy is a Pro?? I think not. Steer Clear!
Submitted by "kdimke" on 9/14/2021
Response from DonnyAction.wordpress.com
AS of today 11/02/21 a little over a month or so after your review.. I am #1 in the NFL, #1 in the NBA, #1 in the NCAAF and #1 in the NHL. Which makes me #1 overall at Cappertek. So the answer to your ?? is YES I am a Pro.


*** We seek to provide our users with an honest and relevant representation of sports handicapping services listed in our directory through our Sports Handicapper Reviews. Reviews provide a space for users to anonymously share their unique experiences with a particular service. Reviews are user-generated, and CapperTek does not guarantee the accuracy of this content or information or endorse any statement as the opinion of CapperTek or its affiliates. Additionally, we do not remove, censor, edit, or alter any reviews submitted unless the content or information contained in the review is in violation of any federal, state, or local laws. If you have any questions or concerns regarding any review posted on CapperTek, please feel free to
contact us
today and bring it to our attention.