VegasSharpPlayers.com Review - Vegas Sharp Players - Sports Handicapper
VegasSharpPlayers

.com

Pro Featured Verified Service
Customer Reviews for Vegas Sharp Players
New Review Submitted for VegasSharpPlayers.com on 10/14/2021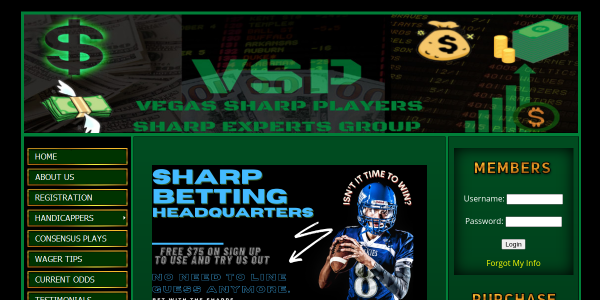 I have used these guys for 2 years now. Not all of their picks are here and they are much better then what cappertek shows. Jason Larkin also offers DFS and I have cashed big with him in fantasy winning $1,000 or more in 5 straight days. They are a excellent follow on twitter to and hold contests constantly with cash prizes. They post free picks and recaps daily. I use consensus plays which is the best package they offer.
Submitted by "PcPaul" on 10/14/2021


*** We seek to provide our users with an honest and relevant representation of sports handicapping services listed in our directory through our Sports Handicapper Reviews. Reviews provide a space for users to anonymously share their unique experiences with a particular service. Reviews are user-generated, and CapperTek does not guarantee the accuracy of this content or information or endorse any statement as the opinion of CapperTek or its affiliates. Additionally, we do not remove, censor, edit, or alter any reviews submitted unless the content or information contained in the review is in violation of any federal, state, or local laws. If you have any questions or concerns regarding any review posted on CapperTek, please feel free to
contact us
today and bring it to our attention.